When we received a phone call about a wish from a young lady who wanted to go to a Spa she used to go to, one more time to celebrate her 3rd wedding anniversary, we didn't think twice.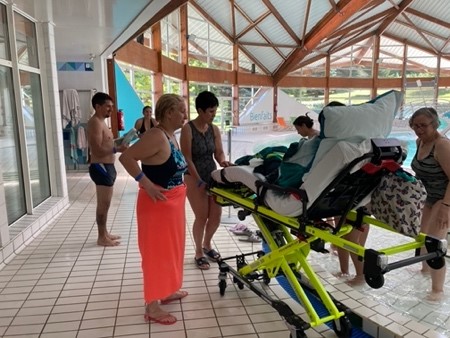 Because our own Ambulance had not yet been processed and delivered yet, we contacted the Dutch foundation. They immediately sent a driver and a nurse with an ambulance to accompany us to fulfill this beautiful wish. Together we picked her and her family up to drive to France.
The Spa in Amneville was very welcoming. They allowed us to use all facilities, to bring in the stretcher and to stay as long as we wanted. They also brought us floating tools to make the swimming part easier.
It was great to see how the lady enjoyed the feeling of the warm water, swimming and floating around, surrounded by her family. The smile on her face and the joy of the family was a gift to us.
After a few hours, when we had gone through all pools, it was enough. We all dressed up and planned to have an ice-cream on the way back but since the lady fell asleep in the ambulance it was decided to not to wake her up and return 'home' directly.
Later we learned it had been a good day for the whole family. We were happy to hear that as that is what we aim for, a good day. Even if it seems impossible.