I was recently involved in executing a wish and it was very special and emotional. Most of the wishes are special of course but this one really touched me as the gentleman in question enjoyed every little detail of the day.
Together with his wife, this gentleman wished to return to a place where they had shared many special memories in the past. An hotel that they returned to every year since they got married. A beautiful place with a fantastic restaurant.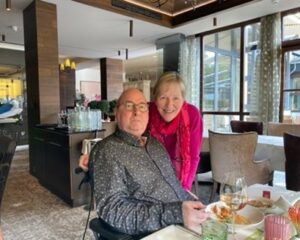 When we picked up the gentleman with his wife, I could see this twinkle in his eyes. Many stories and anecdotes were already shared during the trip to the hotel.
On arrival at the destination, the owner and staff gave us a very warm welcome. An incredible place with beautiful views soaked in while having a drink in the tearoom.
While sharing more stories and chatting, the gentleman indicated he would very much enjoy having lunch with everyone and so my colleagues and I were invited to join them. He jokingly mentioned that he discussed everything with his wife already to which we all had to laugh of course. We were moved by this gesture.
We all enjoyed a delicious 4-course meal with breaks in between to really enjoy the moment and reflect. The gentleman and his wife enjoyed every moment of the lunch. The delicious food and wines, the special and sometimes emotional conversations made it a memorable day, confirmed by the twinkles in everyone's eyes as the day progressed.
After lunch, it was obvious the gentleman was fatigued, and we lay him down on the soft ambulance stretcher so he could take his rest before we would continue the day.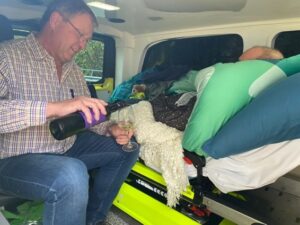 The gentleman earlier expressed his desire to visit a winery and see an old friend, so we went there after the rest. There they talked for a while and had a drink together.
The plan was to drive back to Luxembourg with a detour but not long after leaving the winery and his friend, the gentleman fell asleep, feeling deeply satisfied and with a smile on his face.
On getting back to the hospice, I was deeply touched, just like my colleagues were after they thanked us for the special day, how much it meant to them that Ambulanz Wonsch made this last trip possible.
It felt very emotional and yet rewarding at the same time after saying goodbye to this beautiful couple for having had a fantastic day that we were blessed to be part of!
'Une Journée incroyable. Un grand MERCI á toute l'equipe.'

A few words from the family